Want to start your own e-commerce business in Canada and sell goods to the buying-hungry Canadian market but need help figuring out your e-commerce startup ideas?
We understand that it's a huge leap. Launching something as massive as your own e-commerce business is daunting, especially when you don't have the right ideas.
Well, stick around and read on because we've got 21 of them for you. We've researched and scoured all corners of the internet.
And we came up with a comprehensive list of 21 of the freshest profitable e-commerce business ideas that could spark your entrepreneurial passion.
Whether you want to launch an online store or offer services, this list is all-encompassing.
So let's dive into some great ideas and get down to business!
Best E-commerce Startup Ideas
Online Retailers
Are you an aspiring entrepreneur looking for e-commerce business ideas? Online retailing is a great place to start, especially as the industry continues to boom.
Still trying to figure out where to begin? Here are some ideas to get your creative juices flowing.
For one thing, you could become an online reseller. This involves finding products from wholesalers, manufacturers, or other third-party sources and reselling them via your own e-commerce store or marketplace.
To run this business, you need to customize your website to attract customers.
Or do you want to produce something yourself? In that case, think about setting up a store that sells t-shirts, mugs, or other customized items.
The possibilities are practically endless!
Subscription Services
Subscription services are an increasingly popular way for entrepreneurs to provide products and services directly to customers.
Subscriptions take many forms. It includes regularly delivering physical goods like snacks and toiletries or providing access to digital content.
These businesses are highly lucrative for entrepreneurs who have identified customers' needs. For example, if you're starting a business in the health and wellness space, you could offer subscription boxes with healthy snacks and organic toiletries.
Alternatively, you may create a subscription-based portal that provides helpful resources like meal plans, workout programs, and more.
Perhaps, you're interested in pet care? Then, launch a subscription service that delivers toys, treats, and monthly dog grooming supplies tailored to the size of your client's pet.
You can take it further and create an online store that provides members exclusive deals on pet-related products.
No matter your niche market, there's almost certainly a way to create a successful subscription service for eager customers.
Dropshipping Businesses
Dropshipping is a great e-commerce business idea. It could be a great side hustle or full-time job. With the help of dropshipping suppliers, even the most minor e-commerce entrepreneurs can create their stores without having to stock or ship inventory themselves.
How does it work?
You build an online store
Pick out products from dropshipping suppliers
List them on your website
When customers buy them, you forward the order and shipment details to the drop shipper,
The drop shipper sends the product directly to your customer.
You can fluidly slide into e-commerce without investing in expensive inventory upfront. Little wonder it's tagged the best e-commerce business model for beginners.
Here are some ideas for dropshipping e-commerce businesses:
Home & Garden Supplies
Electronics
Health & Beauty Supplies
Clothing & Accessories
Jewelry & Watches
Pet Supplies
Toys & Games
Sports & Outdoors Gear
Office Supplies
Personal Safety Equipment
Digital Products and Content
If you're tech-savvy, you could create digital products and content to make money without investing in physical materials.
Digital products like music, ebooks, online courses, and themes can be created quickly and sold online.
Music
Many artists now offer their music directly to customers through platforms like Bandcamp or SoundCloud Pro. It's also possible to license your music to be used in motion pictures or video games for a fee.
Ebooks
Ebooks are popular, creating an alternative way for readers to enjoy long-form content. You can easily publish your ebook on Amazon Kindle Direct Publishing or Gumroad and market it with social media ads or email marketing.
Online Courses
With the popularity of websites such as Khan Academy, creating and selling online courses is a trendy mode for entrepreneurs to make money.
So, start creating video tutorials on topics such as coding, design, or any business your target audience is interested in.
Themes
Designers may create themes on marketplaces such as Envato's ThemeForest platform. Once the product is sold, they earn a commission.
This is an impressive way to diversify your product portfolio while leveraging your existing skill sets.
Customized and Personalized Products
You may have noticed a trend toward more personalized and customized products.
Well, there are plenty of e-commerce startup ideas related to this trend.
For example, you could start an online store specializing in customized jewelry or clothing. You may also make custom-made items like furniture, art pieces, graphic design, or web design services.
This type of online business has a lot of potentials to grow because the customization and personalization elements make the products unique for customers.
Due to this uniqueness, your clients are likelier to stick around as returning customers.
Curated Gift Boxes and Kits
Gift boxes and kits are a great way to get creative with your e-commerce business. Put together curated collections of products like books and snacks. Or even digital downloads that can make great gifts for the special people in your life.
This e-commerce business may also introduce new customers to your product lineup.
Think beyond just physical products, too – consider adding virtual goodies like gift cards or digital downloads to the mix. Adding custom touches like personalized messages and greetings will make the package more appealing.
It would help if you kept these in mind when creating curated gift boxes and kits:
Start by researching what types of products people want to give as gifts
Create exciting combinations and themes for the boxes and kits
Include a good mix of physical and digital items for maximum appeal
Make sure the pricing is attractive for both the giver and receiver
Promote your boxes through social media channels and influencers to reach more potential customers
Private-Label Beauty Products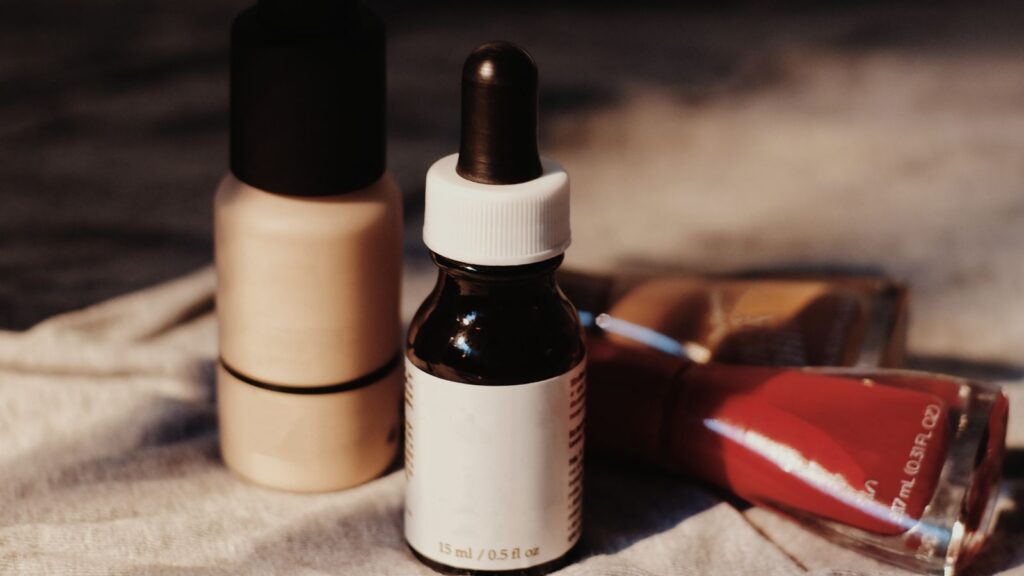 Want to break into the e-commerce game creatively? Create a private-label beauty products business.
Private-label beauty products are designed and owned by a company, typically with natural and organic ingredients. They can be sold under the company's branding, making it easier to differentiate their products from other companies.
With private-label beauty products, you can create unique formulas, fragrances, and packaging designs or even offer personalized customer service.
All these branding efforts will help you stand out from the competition and make loyal customers who will return repeatedly.
The following are the advantages of starting a private-label beauty products business:
Ability to customize each product
Little competition or market saturation
Low barrier to entry
Clear brand identity
High margins
Ability to build relationships with customers
The best part is that this type of business has plenty of potential customers. But, of course, everyone wants to look their best!
Start a Clothing Line
It's always a good time to launch a clothing line. If you have an eye for fashion and design, you can't go wrong with starting this business.
It doesn't need to be expensive—you can launch an online store with just a few pieces of stylish apparel.
Start Simple
You don't need to launch an entire line right away. Instead, start by designing a few pieces that can act as your signature style, and then build out from there.
Think of it like creating the foundation of your brand. You want your customers to recognize and identify your style with the first pieces they see.
Choose Quality Materials
Once you finalize the designs for your collection, it's time to choose quality materials for each piece. Quality materials mean that customers will love wearing your clothes and will return for more purchases in the future.
Make sure you source fabrics that are comfortable, durable, and stylish!
Market Your Line
The last step is to let people know about your new clothing line! You can do this through social media platforms like Instagram, Facebook, or Twitter. Use targeted ads, run promotional giveaways, or try email marketing.
Your goal is to create enough buzz around your brand that it starts taking off organically!
Resell Books
For the book-lover, reselling books is a smart e-commerce startup idea. With a few clicks of the mouse, you can open online stores for readers to make some extra money.
You don't need thousands of books in stock—focus on a few popular genres and start building your library.
Pros of Selling Books
There are lots of advantages to selling books online. One is that no overhead costs are associated with renting or buying retail space. It's just you and your computer!
Another is that you'll sell even used books for a reasonable price. But do well to ensure that whatever you make stays in your pocket.
Cons of Selling Books
On the flip side, selling books also has some downsides. Booksellers must keep their inventory up-to-date and confirm the book they are selling is in good condition.
Moreover, shipping costs may add up quickly if you're not careful.
Ultimately, starting an online book business offers a seamless transition into e-commerce without too many risks.
Plus, it's fun too! So if you're passionate about books and reading, this might be the e-commerce startup idea for you!
Create Online Courses
Ever wondered what it takes to launch an online course? Well, here is your chance! Online courses are the new norm for sharing information and acquiring new skills.
Creating an online course is a profitable e-commerce business idea with proven money-making opportunities.
To create your online course, there are a few essential steps you need to take:
Choose a topic that fits your knowledge base and experience
Research which topics are in demand and have a high search volume
Create the content for the course, considering multimedia elements like slideshows, videos, audio files, etc.
Develop an e-learning platform for hosting the course
Promote your course online through email marketing, social media campaigns, etc.
Build relationships with influencers & start building an audience for the course.
Track and analyze the results of your efforts to improve the performance of your offerings over time.
Creating an online course may seem complicated and daunting at first. But once you have done it once, making even better content in future iterations becomes much easier.
Become an Affiliate Marketer
Are you looking to become an entrepreneur without building a product or a business from scratch? That's where becoming an affiliate marketer comes in.
As an affiliate, you can leverage existing products and services to earn a commission on sales you refer.
So why should you consider becoming an affiliate marketer? Here are some benefits:
Low startup costs: You don't need your product or inventory to start, just an active presence on social media or websites
Scalable income: You have control over how many products/services you want to promote and the potential for it to grow exponentially
Learn about sales and marketing: It provides a medium to learn sales and marketing strategies without risk.
Plus, with some research, you'll find products and services you're passionate about representing.
Becoming an affiliate marketer paves a swift entrance into the e-commerce space without too much legwork.
Sell Handmade Items
Are you artistic and looking for a way to turn your hobby into a business? Why not start a business selling handmade items? You could specialize in anything from jewelry and art to furniture and clothing.
There are plenty of options when it comes to selling handmade items online. Here are some of the most popular ones:
Setting up Your Online Store
If you want credit for all the hard work you put into creating your products, setting up an e-commerce store is one of the best options. This will give you total control over how your product's presentation, prices, and customer service you provide.
Use tools like email marketing to stay in touch with customers and update them on new products or sales.
And don't forget social media – create an Instagram or TikTok account to showcase your work uniquely.
Selling on Third-Party Websites
Selling on third-party websites like Etsy or Amazon eliminates some hassles of setting up an e-commerce website.
But it also means you won't fully control how your products are presented or marketed. Nevertheless, selling on these sites will help you hit the ground running by connecting you to customers quickly.
Participating in Craft Fairs
Many entrepreneurs find participating in local craft fairs a free marketing opportunity to get their business off the ground. Participating in craft fairs allows customers to interact with your products up close.
Furthermore, it will enable them to meet you personally and give you valuable feedback about what they like or don't like about your work.
Vape Hardware, Flavor, Liquid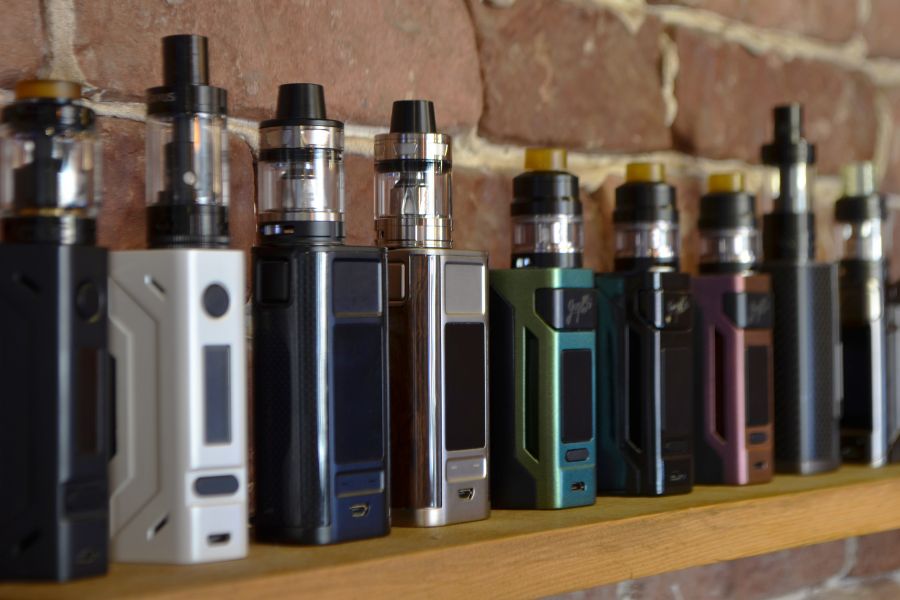 If you're looking for an exciting e-commerce startup idea, why not explore the vaping industry? You can specialize in selling vape hardware, flavor concentrates, and e-liquid for vapers in the know.
Vaping Hardware
Vaping hardware is one of the hottest markets, constantly introducing new designs and features. You could start your store selling everything from boxes to mods, atomizers to tanks, drip tips, and coils.
With so many types of hardware available, there are plenty of options to choose from when setting up your business.
Flavoring Concentrates
Flavor concentrates give e-liquids their unique flavors. You'll find dozens of different flavors, including exotic fruits and desserts.
Buying wholesale allows you to stock a wide range of concentrates at competitive prices, which customers can mix and match to create a unique blend.
E-Liquids
E-liquids are liquids that are vaporized by electronic cigarettes or vape mods. They come in various nicotine levels and flavors, making them an easy sell for anyone looking for something different.
Selling popular brands in addition to your line of liquids creates diversity so that you'll have something for everyone who visits your store.
AR/VR Accessories Stores
The immersive world of augmented and virtual reality is all the rage, and there's an opportunity for a new e-commerce entrepreneur to capitalize on it. AR/VR accessories stores are one way to do that.
These stores can specialize in various VR/AR apparel, tech, and accessories. Everything from headsets and controllers to 3D glasses and cables could be offered here.
You could find a niche by providing custom designs, access to specific brands, or targeting a particular age group.
It's also possible to go one step further with this concept and market yourself as an entertainment destination for virtual experiences.
You could open an online store where customers can purchase tickets for various social immersive experiences (such as attending a concert or exhibition virtually). It's another creative way to stay competitive in AR/VR.
Online Fitness Coaching
Are you a fitness enthusiast passionate about helping others achieve their health goals? Have you considered online fitness coaching as a business idea?
With the rise of e-commerce, online fitness coaching has become an increasingly popular way to share your expertise and make a living doing what you love.
As an online fitness coach, you can create personalized workout plans and offer nutrition advice to clients worldwide.
You can even communicate with your clients through video calls, messaging apps, and email, making it a convenient and flexible way to work. You don't necessarily need an e-commerce website to make this work.
Exploring E-commerce Business Ideas
There are so many e-commerce startup ideas that you can pursue depending on your interests, skills, and available resources. You can even run an online grocery store!
You'll successfully create an e-commerce business with the right team and know-how.
As an entrepreneur, you must think outside the box to develop an excellent e-commerce business idea.
No matter what idea you choose, the key is to have a plan that outlines the steps you need to take. This should cover the financial resources, design and technology, marketing, customer service, and more.
As you go through this process, you'll be on your way to building a successful e-commerce business.